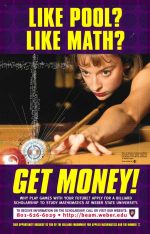 Making the BEAM Poster
You've probably seen this poster at your school, or maybe someone told you about this site and this is the first time you've seen the poster.

This poster was sent out to High Schools in the area of Weber State University.

By clicking on the stages shown at the top in the grey field, you will get an idea of what stages went into creating the poster that may be hanging at your school.